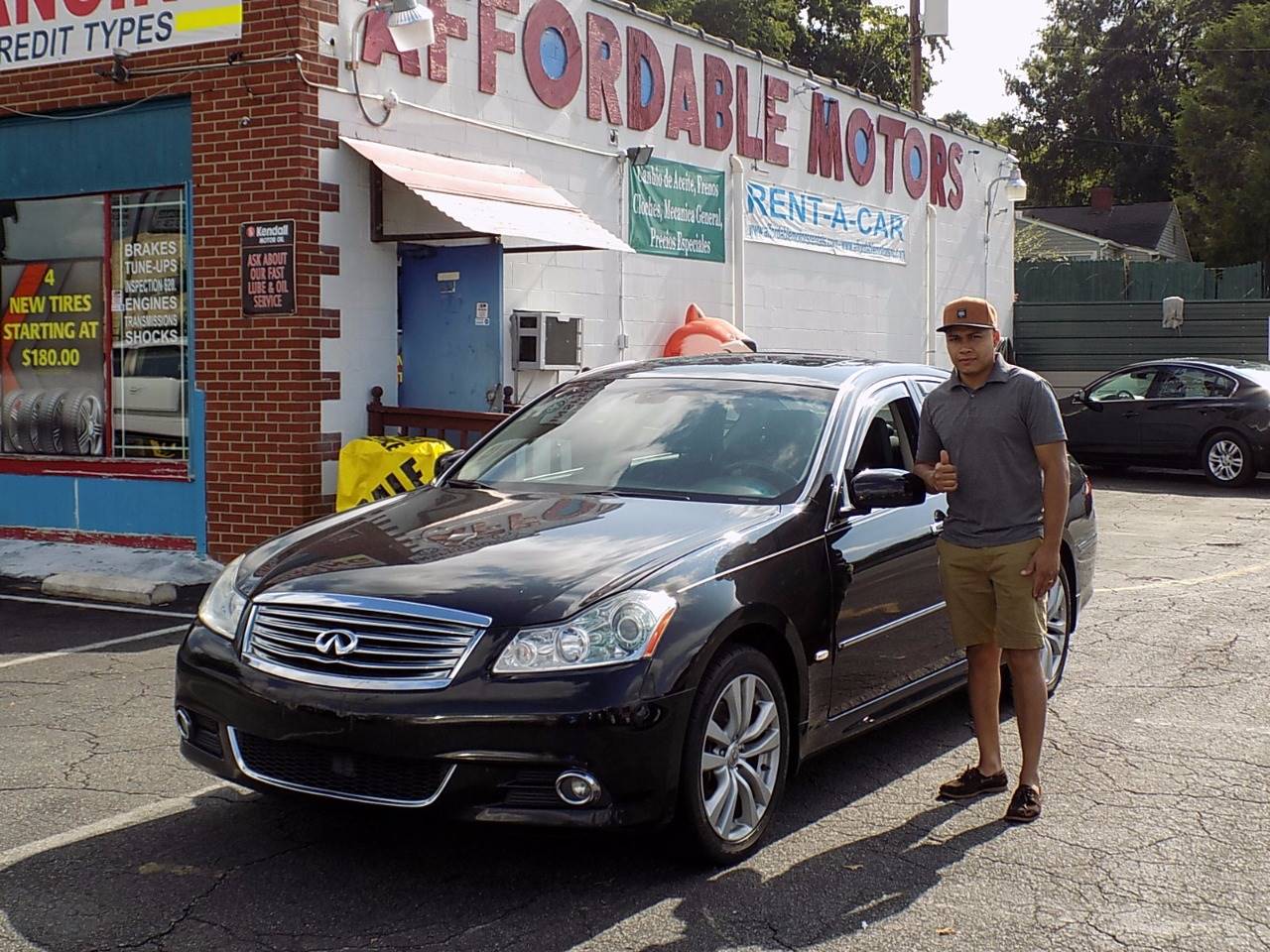 INFINTI M35
Tuve muy buena experiencia con ellos me ayudaron en español. Estuve buscando un carro a mi pro supuesto y ellos me ayudaron a elegir el mejor me ayudaron porque también me mudé de estado y fueron muy amables de mandarme todo a mi domicilio nuevo y mantenerme en contacto todo él tiempo solo puedo decir que no pude ir a otro mejor lugar Gracias 😊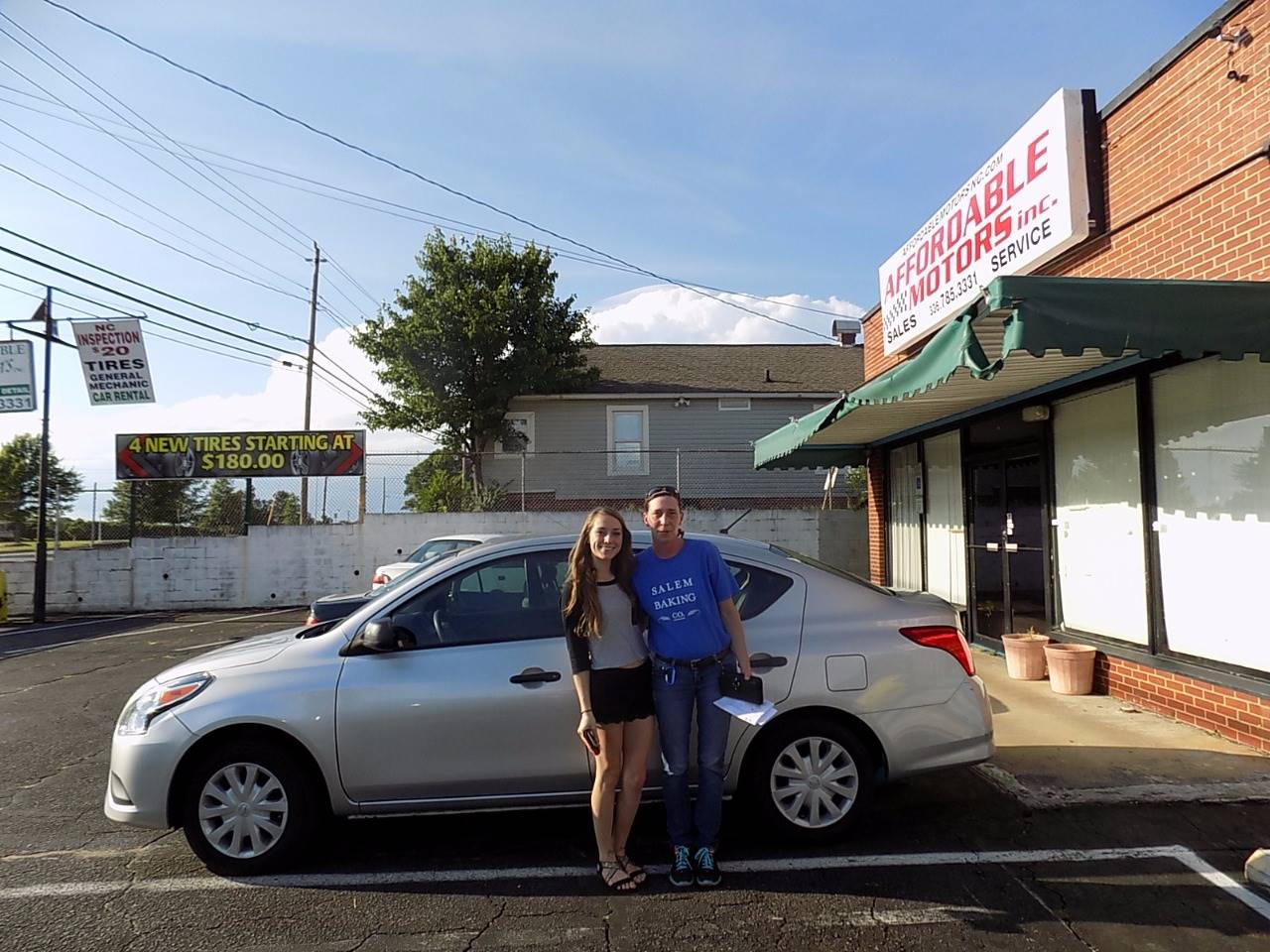 2015 nissan versa
Very pleasant buying experience. Thanks to Pete's advice I was finally able get a loan when I had been previously turned away by multiple other dealerships. I got a used car in great condition with low mileage at an excellent price.
salena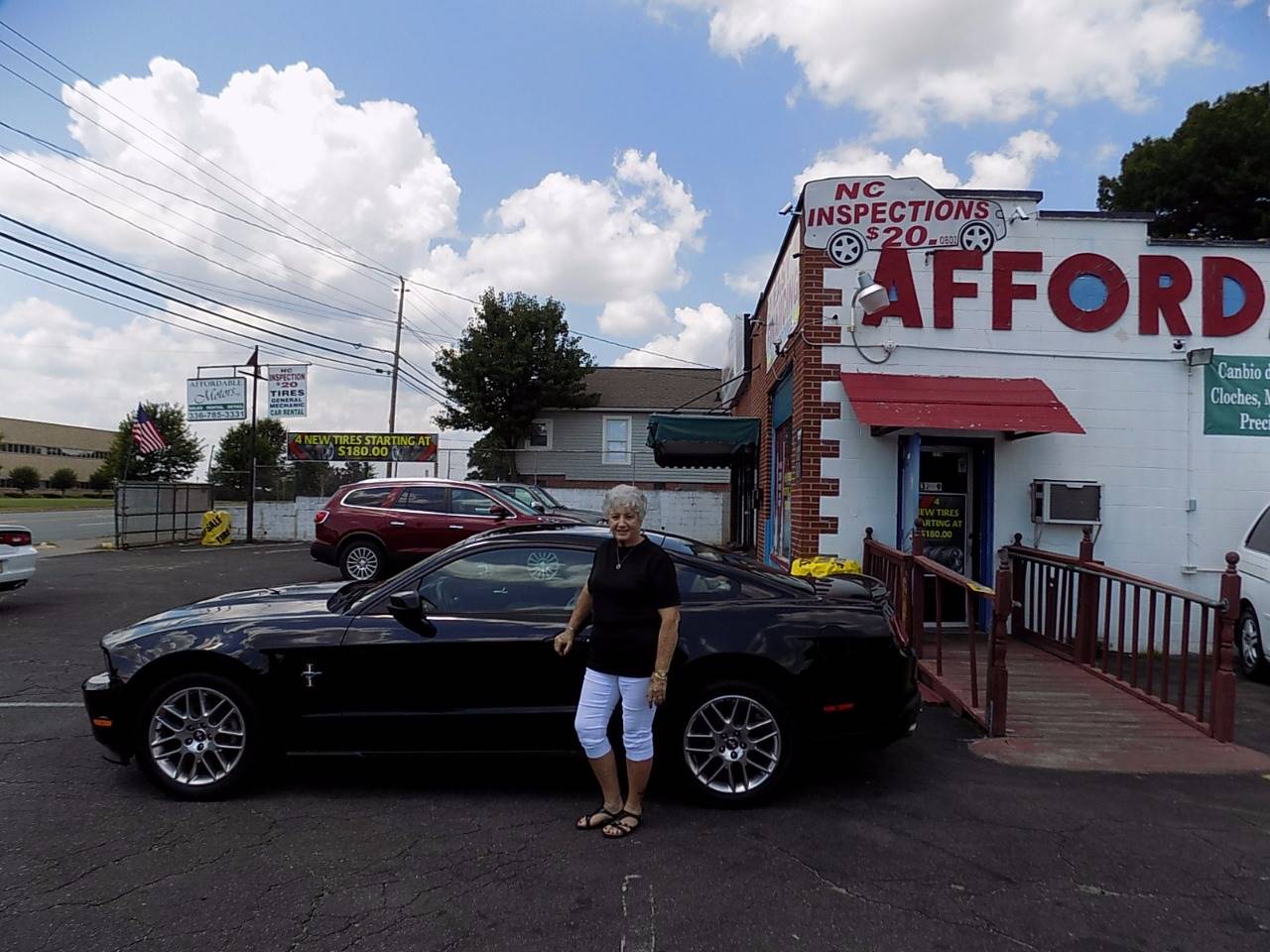 2012 Ford Mustang
Hello-- Just wanted to thank you for being so nice to me and my grandson when we came up to see the black Mustang. I sure am enjoying my car. I am so very pleased with it. Thanks again and would recommend anyone doing business with you at Affordable Cars.
Phyllis Helms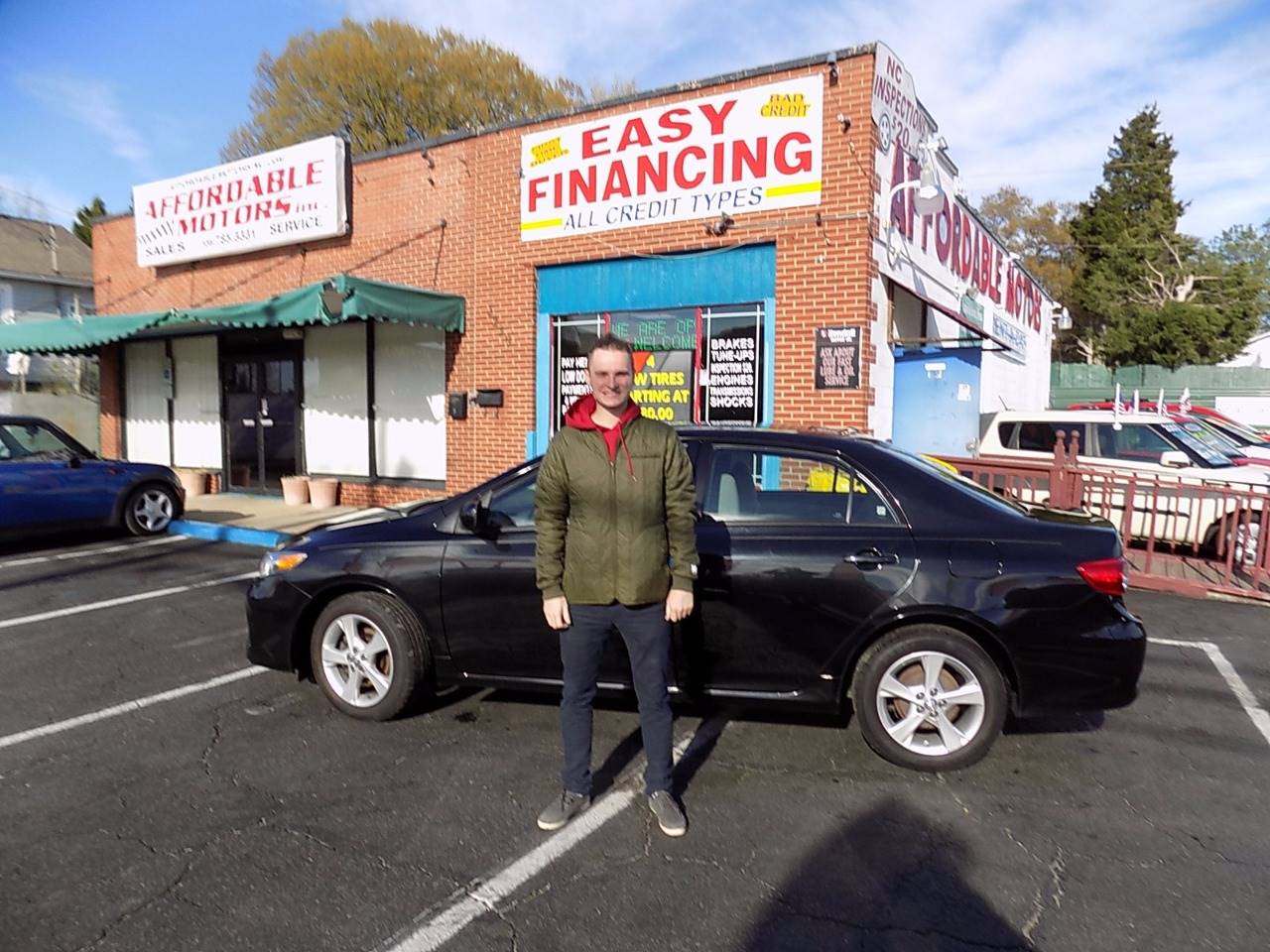 toyata coralla
I don't know where to begin to tell you about how great my experience was at Affordable Motors. I was in town visiting a friend all the way from Wisconsin. Some unfortunate luck had me looking for a new car in the area and in a bit of a rush. Ali was there to first great me and show me some vehicles in my price range. I test drove the cars and decided to go shopping around a bit. But at the end of the day I found myself back at Affordable Motors. The prices were hard to beat and the customer service was unmatched. Hungry and tired all day from shopping around, Ali offered me some of his dinner he picked up for himself as I waited for my loan to go through. It did not stop at this, he also helped me wash my new car as I waited. I would highly suggest Affordable Motors to any new car buyer, not just because of the prices but the amazing customer service.
Christopher Kuehn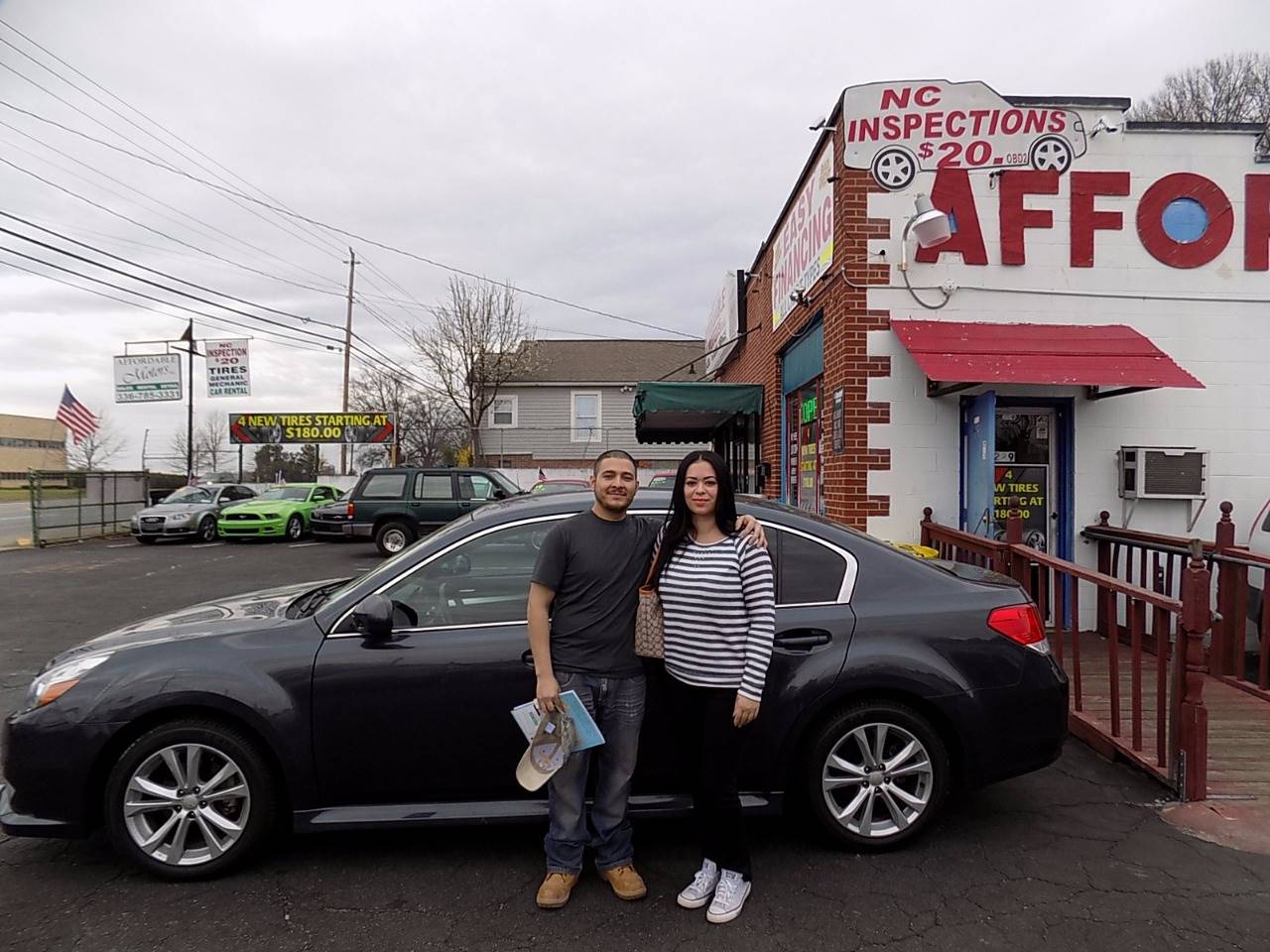 SUBARU LEGACY
Its awesome! Dealer. Thank you to Pete you're the best! I have a great experience with Pete who helped me to get my favorite car. I've go through my bank and others bank to finance car ...Declined and Declined!! Best dealerships thank you 5*****+++++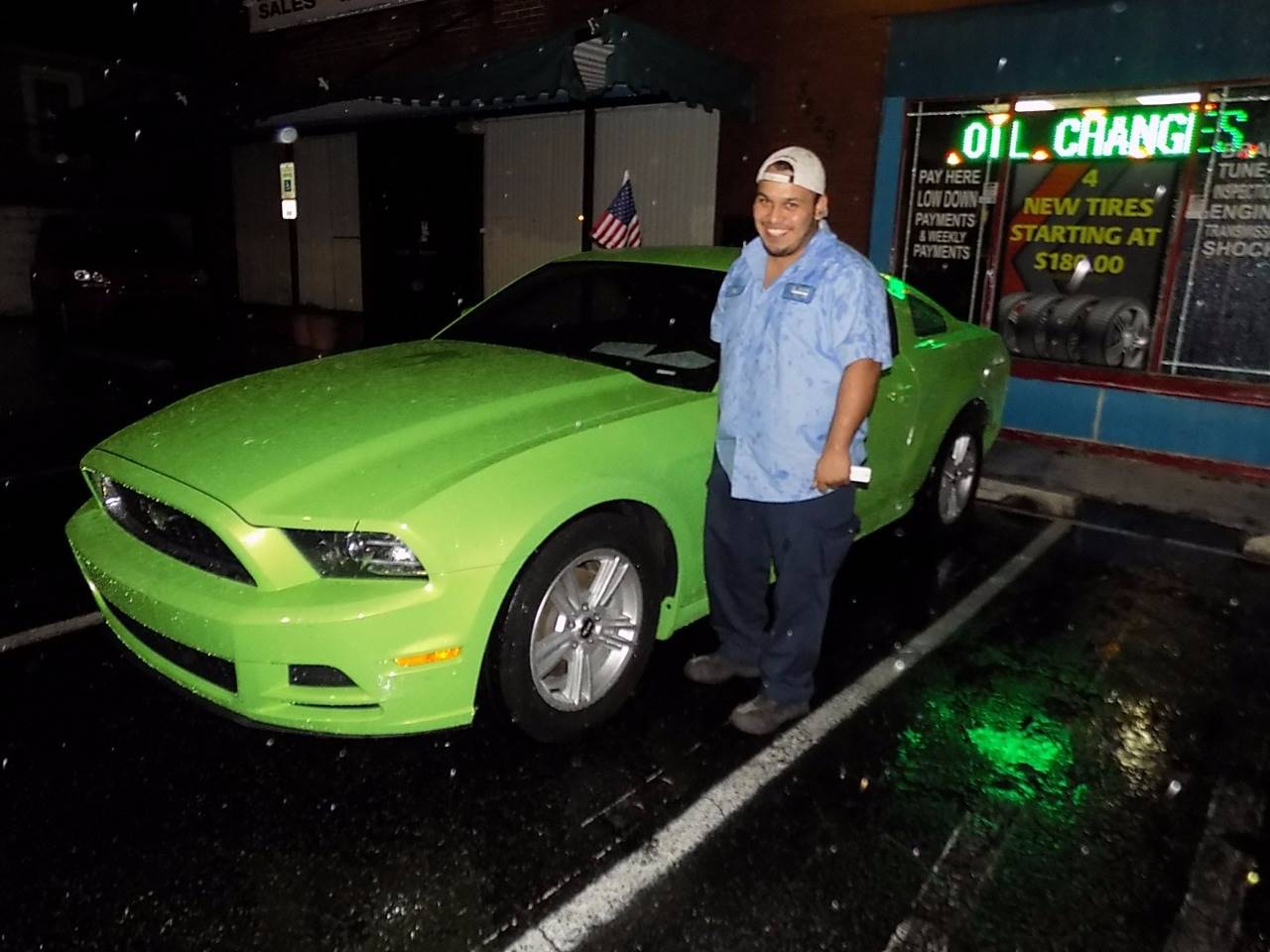 FORD MUSTANG
I just bought a car here and its awesome. I recommend this dealership to anyone looking to buy a car. The cars are excellent they are not over priced and the employees along with the owner are very nice and patient with the customer.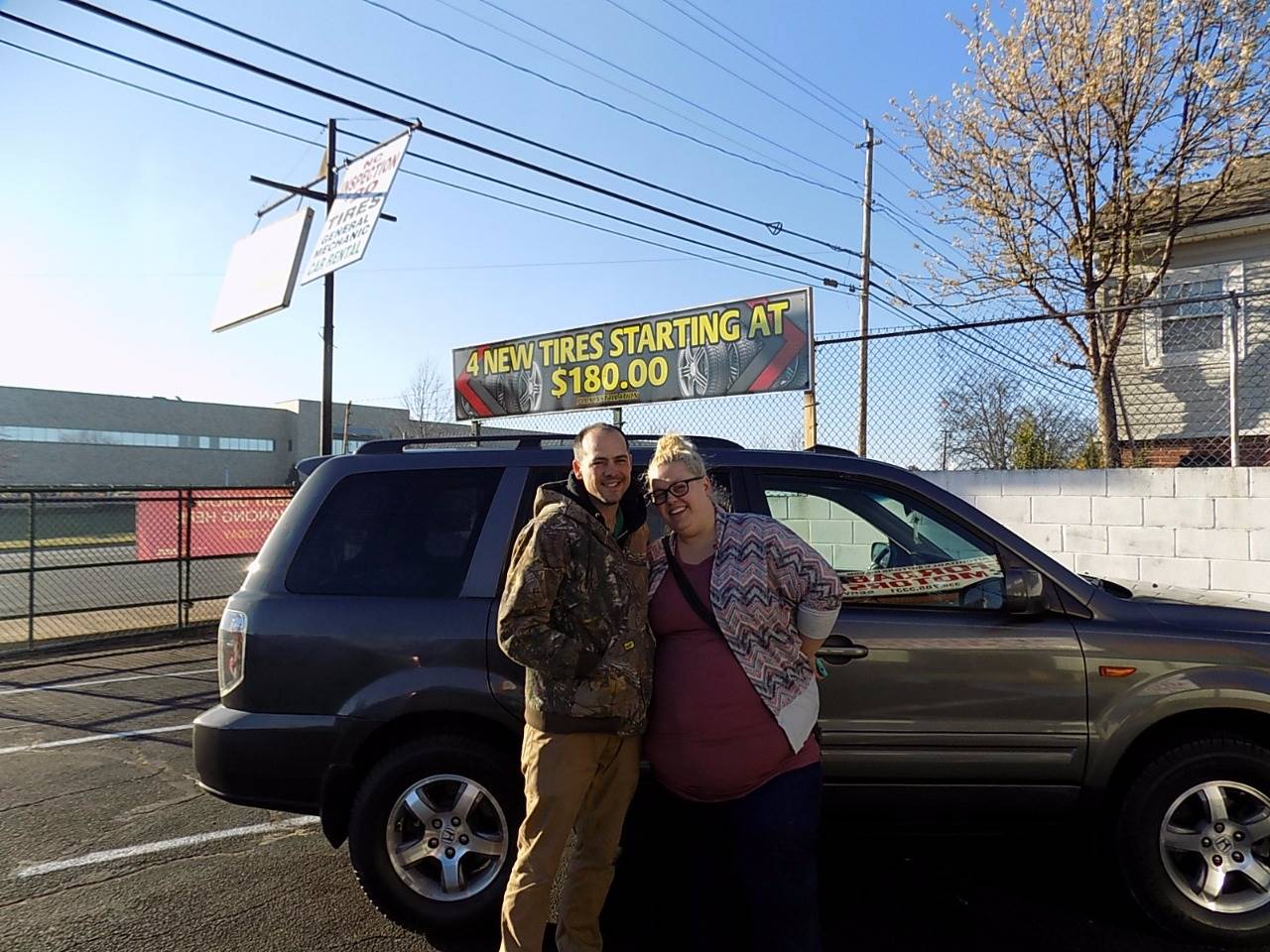 HONDA PILOT
My husband and I looked around for a while to find a car, and I can honestly say I am so glad we chose to purchase from here. Customer service was excellent. Our associate Pete was kind and very knowledgeable. He worked with us and made sure we were happy. I would recommend this place if you are looking for a used car and want a good choice and great customer service.
Helpful?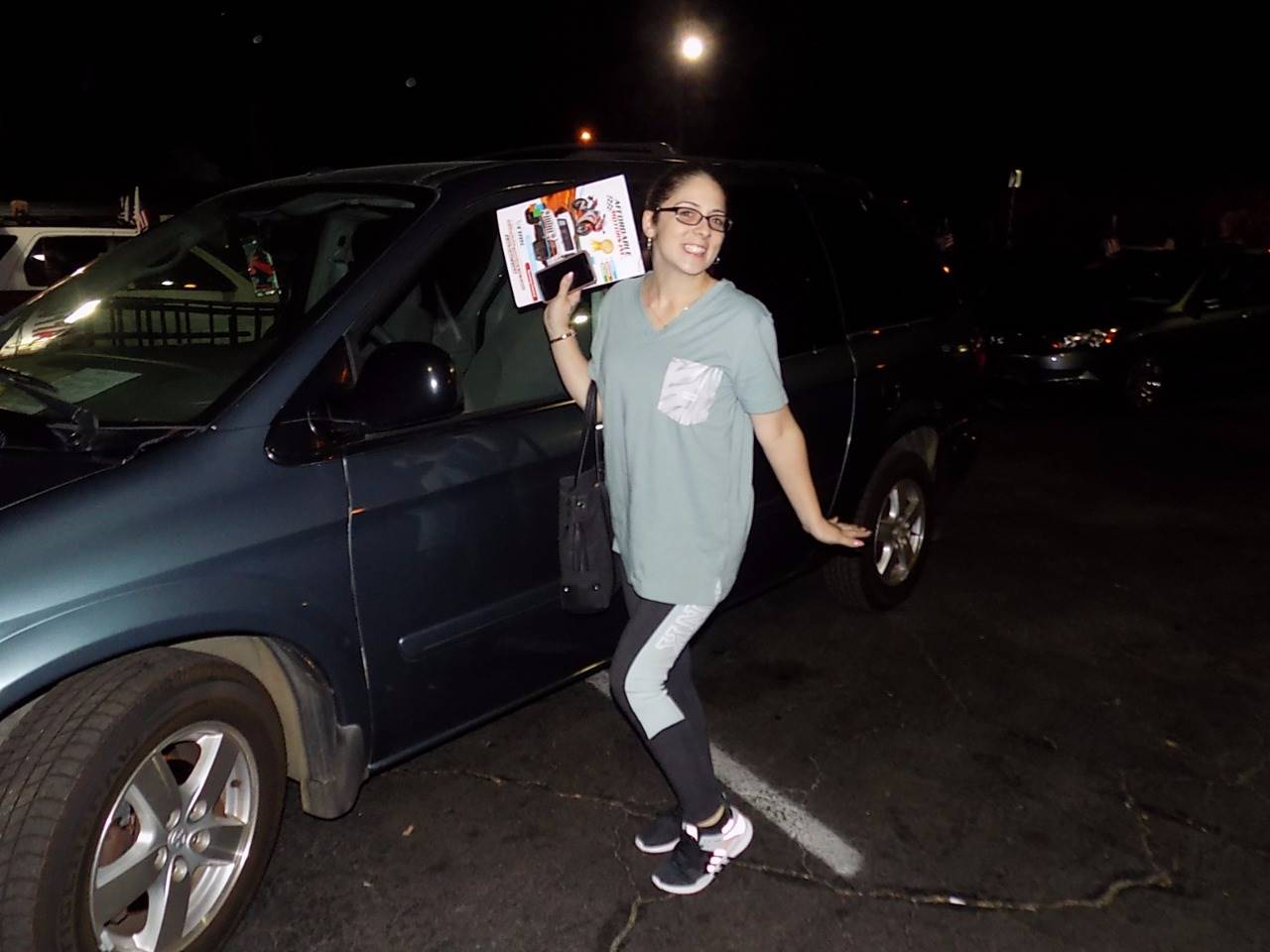 I would recommend this place to anyone who wants to be treated with respect and be taken care of.. Ali and his team took such great care of us they were patient and very honest with us.. great hospitality while we were there and they genuinely cared about us being able to find something that accommodated our budget and our family size..Wonderful humble people and the prices are great..Thank you affordable motors!! We appreciate you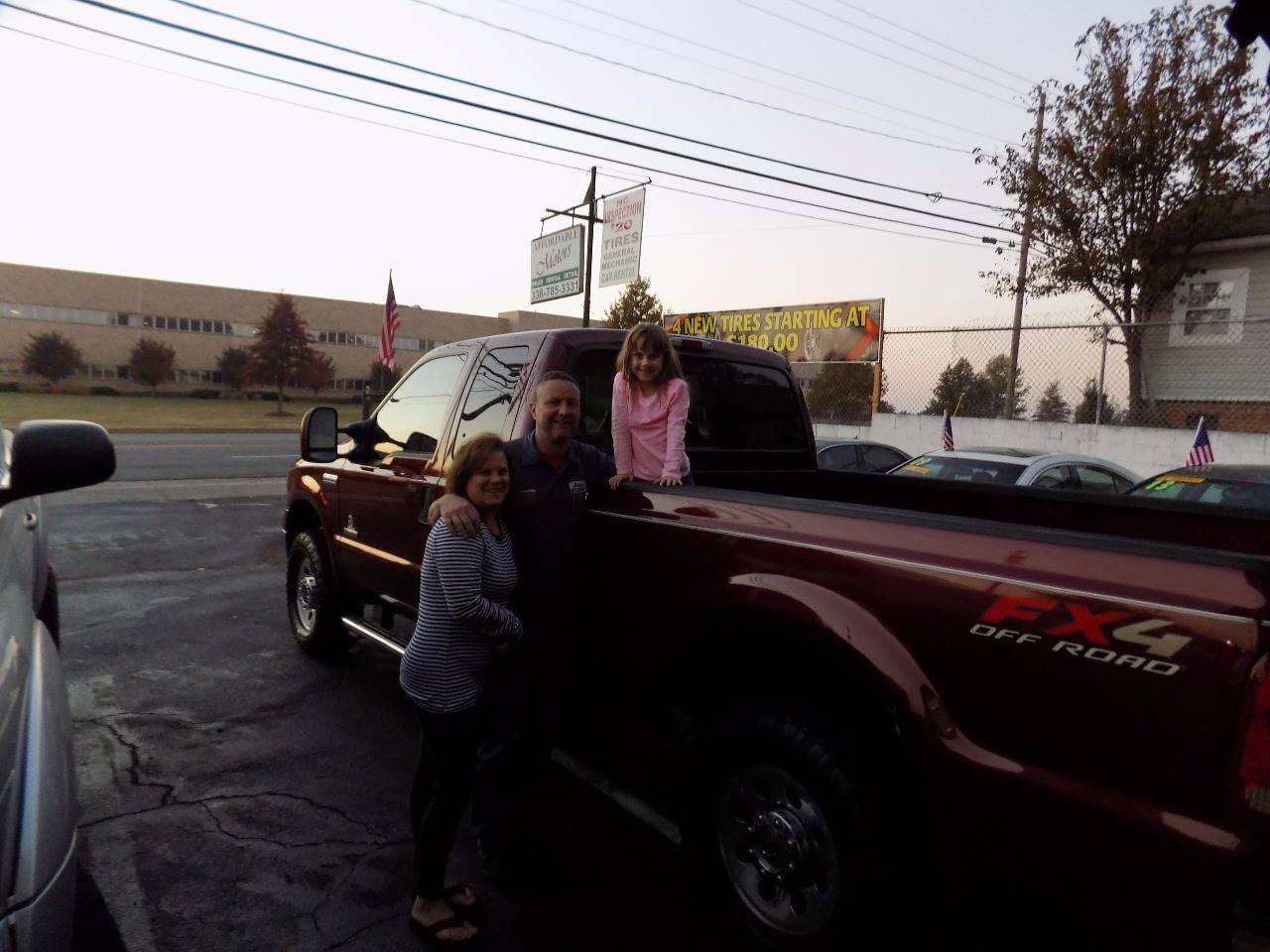 FORD F 250 SUPPER DUTY TURBO DIESEL
I had been looking for a new truck for sometime at a decent price without a million miles on the odometer. I happened on their website and found a truck at a great price with low mileage. I'm an hour and a half away, and I own a garage, so I'm naturally skeptical. I made a call and talked to Pete, who answered all my questions. I made a drive to the lot and it was exactly as advertised. I got a great deal and am very happy with my purchase. If I need another vehicle I'll be sure to check them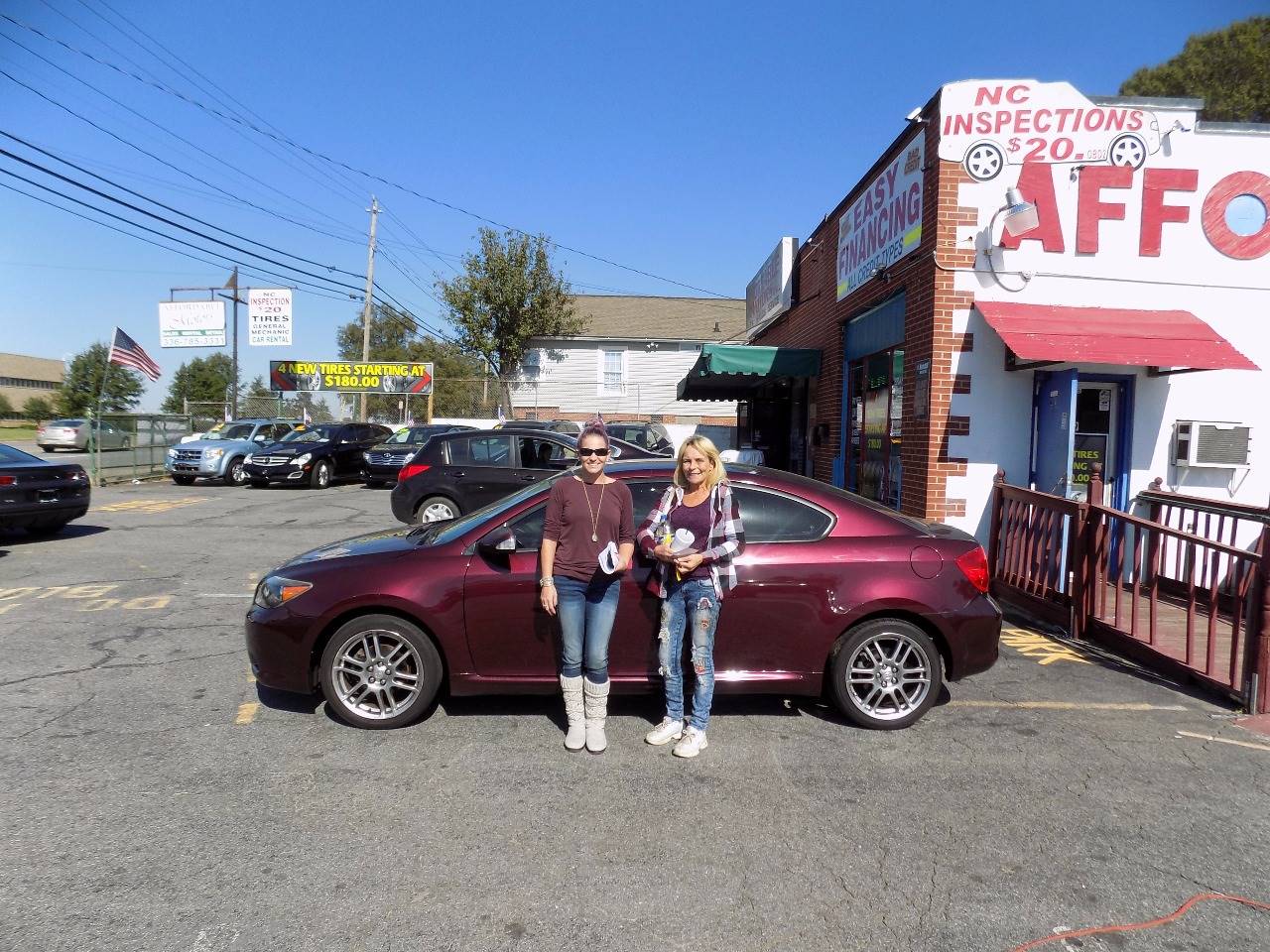 So happy to be walking away today with this car! Thank you Affordable Motors for working with me a giving me back the baby I lost in my accident. For anyone looking for a great deal on cars with several finance options this is the place to go. They also have great deals on tires and .... If you like their face book page they honor your first oil change for free.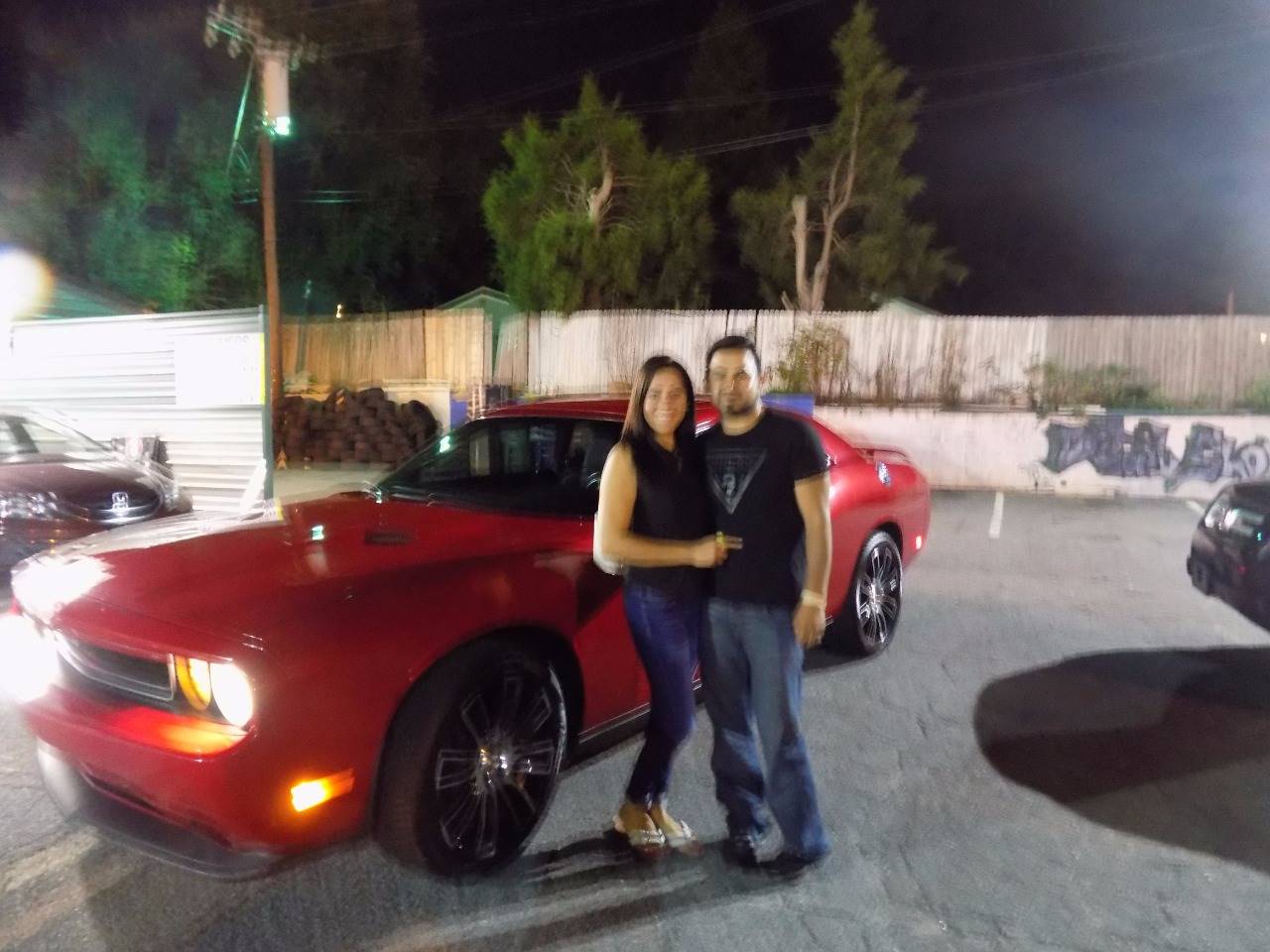 Great experience!!! Very nice people, honest, affordable, they even drove to me, just to see the car since I live 2 hours away. Very happy with my new Challenger. Thanks again Ali!!!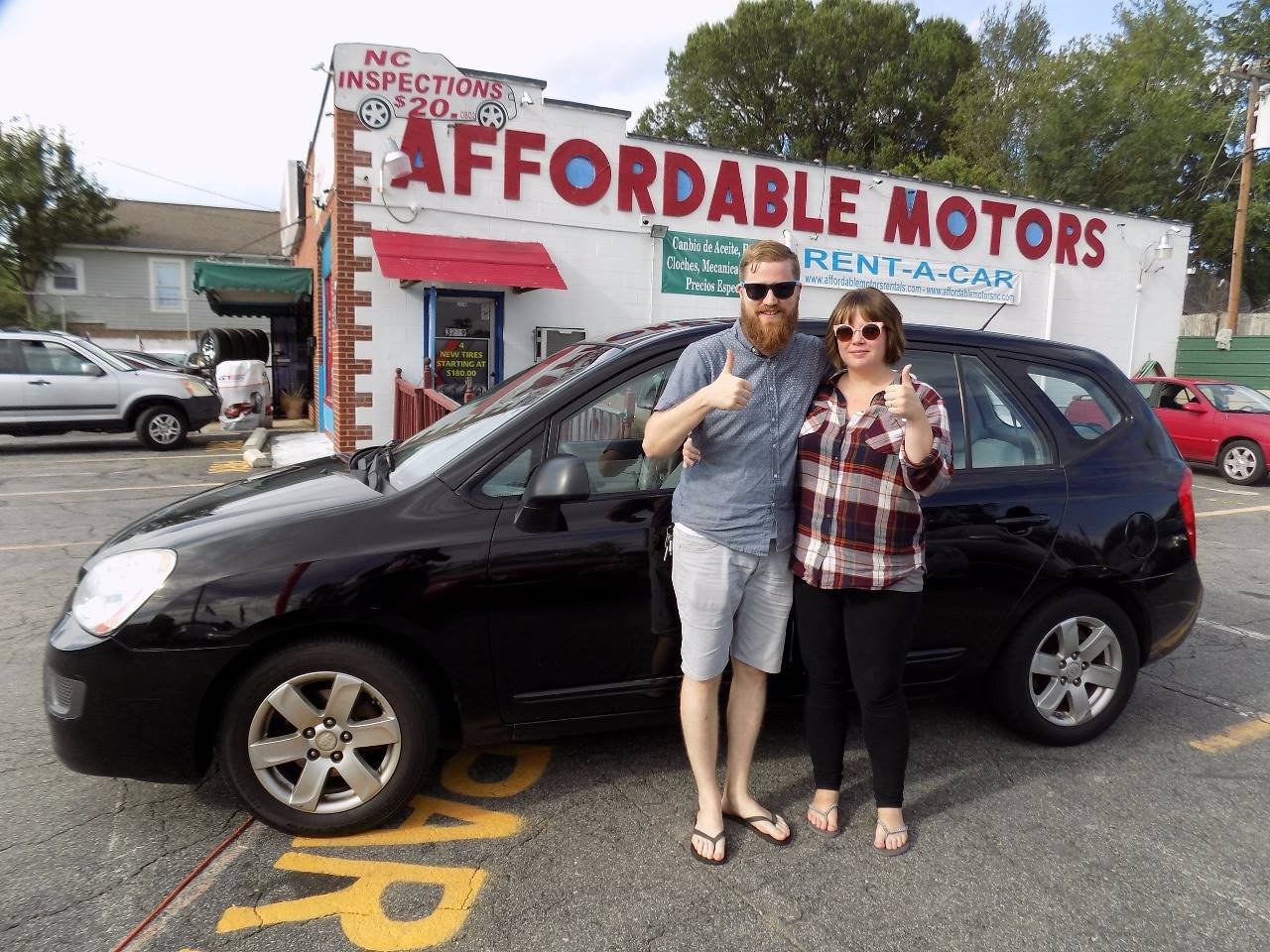 Kia Rio
We had a great experience buying from Affordable Motors. Everyone was friendly and helpful and not at all pushy like many used car places can be. We found the right car for our family needs and they were willing to negotiate the price to meet our budget. The car was cleaned up and maintained so well it feels like a new car. Can't ask for much more than that! Thanks, guys!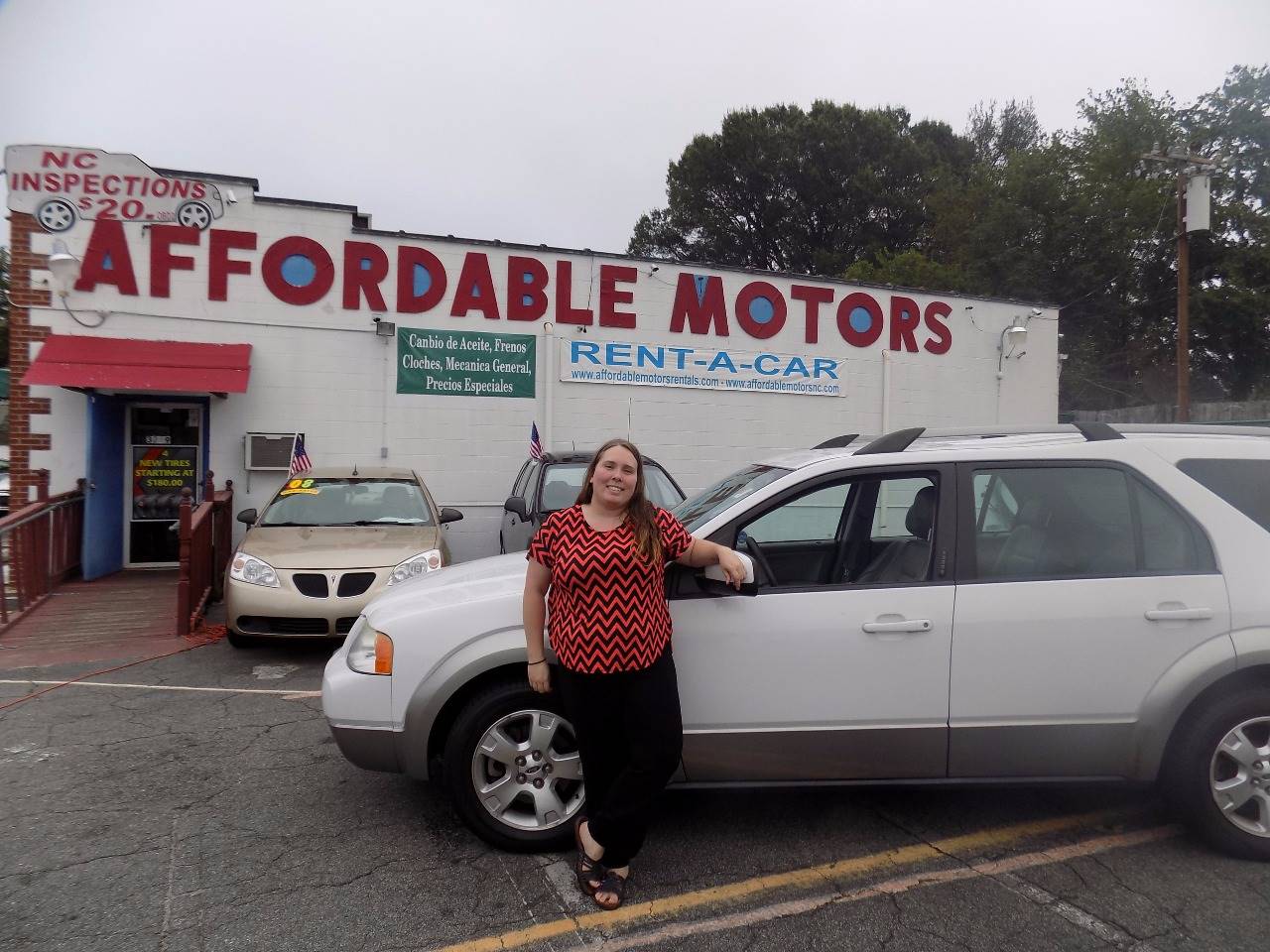 2005 ford freestyle
I have now bought 3 vehicles from Affordable Motors and I always have a great experience. They really work with you and want to help you get the car you need. I have found the cars to be great quality and only have had to do normal maintenance and work that you would expect on a used vehicle. I keep going back to them because I believe they only sell good quality vehicles and I trust them.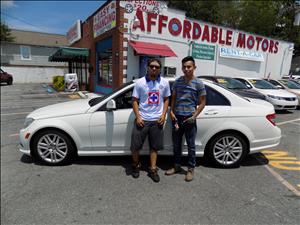 2009 Mercedes-Benz C-Class C300 Sport 4dr Sedan
Had an awesome experience! Just bought a car and the service was great. I would totally recomnd it to friends and family. Awesome staff as well. 5*++++
Anastacio Martinez
2007 HONDA ODYSSEY
When buying a car, do you enjoy feeling like you have been lied to, "worked over", or that you were not getting a good deal? Me neither. Thats why you need to go down and check this place in person.
At first I could not believe how polite, honest, and helpful the team at Affordable Motors was. I soon learned it was just as it seemed and "above and beyond" is just how they do business. There were a few bumps in the process of my purchase, but Ali, Christian, and the rest of the guys at Affordable Motors pleasantly worked with me to get through them in a way that left all parties feeling satisfied. I have purchased several used cars, and have never had a purchasing experience of any kind that left me feeling so positive about the outcome.
Why don't more people buy cars from Affordable Motors? I guess they just don't like nice people and great deals.
Russell Donaldson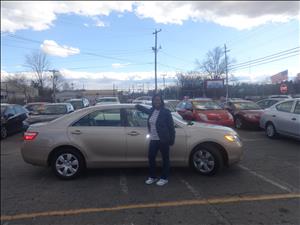 2009 TOYOTA CAMRY
I had a great buying experience at Affordable Motors. I had almost given up , so I did an inquiry online. Pete followed up with me very promptly. I went to view the inventory and they had very nice cars to chose from. I explained my situation and he assured me that he would do everything that he could to put me in a vehicle. He did just that!!! He was very dedicated to making sure everything was done right, he made sure that I had all the information I needed to complete the buying process. After a weekend snow storm, I was the happy and proud owner of a 2009 Toyota Camry. Thank you Pete! for providing such great customer service and there are car dealers out there that are about the customer and not the commission.
by
C.Lindsay
from
Winston Salem, NC
Subaru
Prices are excellent compared to anything else I have seen and I have seen I lot. Service was great and the owner was very friendly and knowledgeable. I like how they take pictures of every customer with their car. I am a happy customer. Have been driving my Subaru for over 4 years now, no problems and got it for half price compared to other dealerships. Highly recommend
Maka
from
Bluefield, WV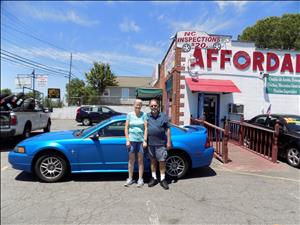 2000 FORD MUSTANG
my experience with affordable was great. Pete was very helpful, no pressure. I bought a car from them and I highly recommend this company to anyone looking for an honest car dealer..

jim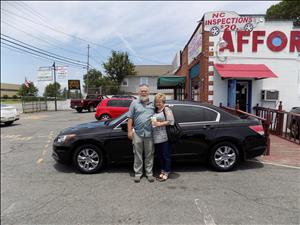 2012 HONDA ACCORD
Pete was very helpful. He made the whole process of buying a car much easier!!! Everyone there was helpful...a great experience over all!!!

Ben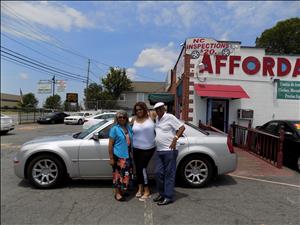 2006 CHRYSLER 300 C
One of the best experiences I've had buying a car! Pete was so courteous & professional. My parents & I was treated like family, not just a sale.. I would recommend Affordable Motors to anybody looking to buy a car. The process was easy & Pete was able to get me approved for the car I wanted.. I love my Chrysler 300C!!! Pete & Ali, just all around great people!!! Thanks Guys!!
Kristin Logan
2007 TOYOTA CAMRY
I bought a car from Affordable motors 5 years back. The owner Ali is an extremely nice and very honest guy. He was very courteous , gave me a great deal on 2007 Camry , i have used that car for 5 years years now without a single problem. As i am moving out of the US, i came back to him to resell the car and once again he was extremely helpful. I highly recommend this place to everyone who is looking for a good and honest deal. Recommended 100% .
umar farooq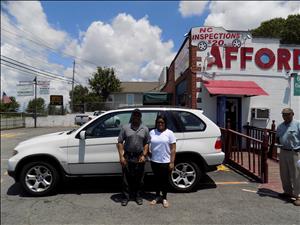 2005 bmw
I was looking for a car to get my daughter (her first car), and I was looking online on different websites and we have been to three different dealerships and while my daughter was looking online she found the car she wanted at Affordable Motors. So went there to check the vehicle out, Ali and Pete was very very friendly and very trustworthy. I usually don't trust car salesmen, but I trusted them. I would recommend them to anybody who wants a good quality car at a good price.
H Caldwell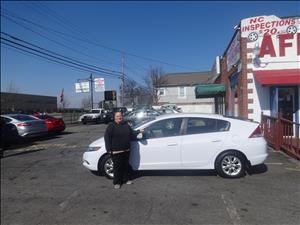 2010 HONDA INSIGHT
They all were great. Pete was wonderful to work with, I had 2 bad experiences at other car dealerships, I was very nervous about going in to buy a new car but they were great I was able to do my financial approval over the phn and in a couple of hrs got the approval and had my new honda insite in a couple of days. I love my new car and they put back faith in my view of dealerships. They are great. I will be back to purchase my daughter a new car nxt yr for her graduation present thank you!!!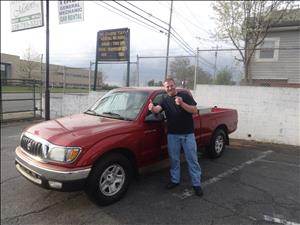 2004 TOYOTA TACOMA
I spoke with 3 of the salesman during the process of buying my new truck through them. Everybody there is really nice and very helpful. I got a great price on a nice 1 owner Tacoma. One of my best purchases ever. I would recommend them to anyone.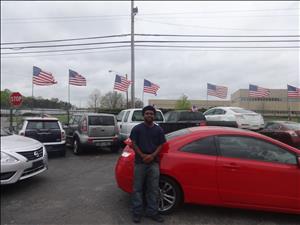 2008 honda civic si
Had a great experience with these guys. Great colustomer service. They hook me up with a nice ride with a low price. Go out and check what they have. They have a great selection with low prices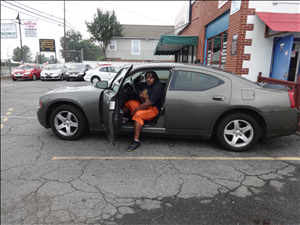 2008 Dodge charger
The day I came into see Christian at Affordable Motors, I had already been test driving and looking at other cars. Other dealerships just asked my info and gave me keys to test drive. Christian actually sold me the car. Actually told me the ins and outs and everything about the car. He knows what he's talking. I appreciate all of there help. Good people, great cars.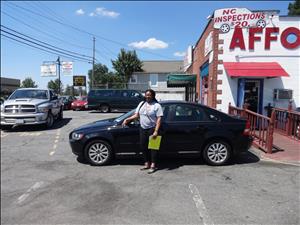 Volvo
Aisha Mock :
I was referred by a friend to visit Affordable Motors , while searching for a car . Pete was a Great help. Very friendly and respectful Guy. They helped find a Great car within my Budget and I Purchased it the next day .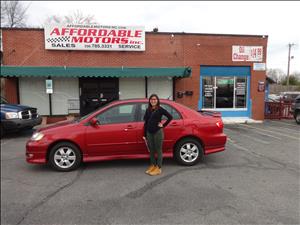 2008 TOYOTA COROLLA
THANS TO AFFORDABLE MOTORS I WAS ABLE TO WALK OUT WITH THE CAR THAT I WANTED. THANK YOU FOR HELPING ME FINALLY GET MY CAR

THEY WORKED WITH ME IN FINANCING AT A PAYMENT THAT I COULD AFFORD, WITH NO HAGGLE

KARLA .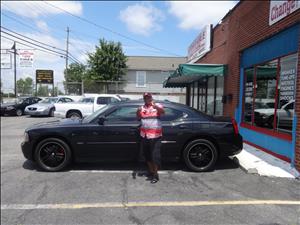 2006 Dodge Charger
Affordable Motors is very good to get you a car , VERY GOOD !!!

-Rogers Brimfield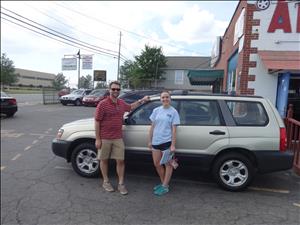 All of the employeeswere very helpful and friendly and worked with us to meet our needs!



Madison Bohlmann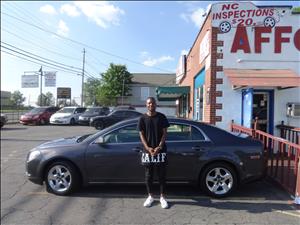 2010 Chevrolet Malibu
Great costumer service ! Pete helped me find a great car ,Met my expectations on everything. I suggest everyone, from a first time car buyer to someone with car buying history, to come visit affordable Motors!!



-Rickey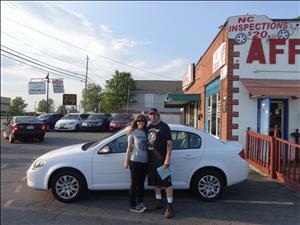 2010 Cobalt
I had a great experience dealing with affordable motors. Pete was Super helpful and courteous. I plan on buying my next few car from him!


Jason Mitchell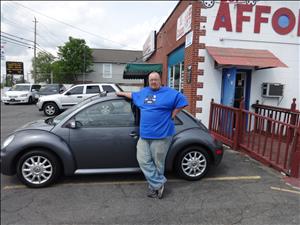 VW Beetle
Great Customer Service
Painless Buying Process
Great Cars At Affordable Prices
Purchased 2005 VW Beetle TDI

Sean White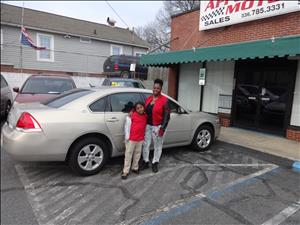 08 Chevy Impala
My Experience with Affordable motors was great. I was ready to give up on getting a car until I walked into Affordable motors last minute. I was approved and purchased my car 3 days later.






Eliza Johnson
3-9-15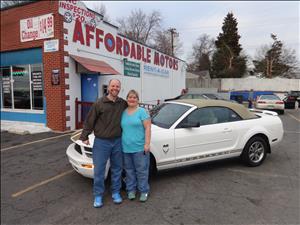 2005 Ford Mustang
Affordable Motors…. What can I say about my experience in buying my car. GREAT, WONDERFUL, NO HASSEL, I could go on and on. First off Ali was willing to let me and my wife see the car on the lot on a Sunday, when they were closed. He came in on his day off, now that's awesome. And stayed there for 4 hours while I test drove the car, called the State Employees Credit Union to work all the details about the loan, and get everything squared away so I could come and pick up the car on Mon after signing just a few papers. I want to thank Ali and Affordable Motors for a great experience in buying my car. I also want to give a big shout out to Lawrence Duff, a co-worker of mine for referring me to them. I will be enjoying my car for years to come. Thank you again.
Jason and Jessica T.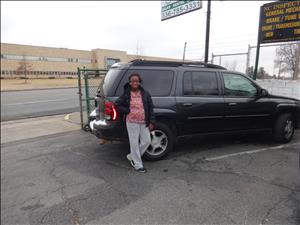 2005 Chevy Trailblazer
My experience with Affordable Motors was GREAT . Mr.Pete helped me in alot of ways to get my jeep and so far I Love my jeep !! Thanks Mr.Pete !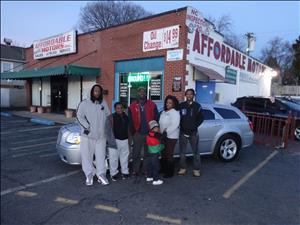 06 Magnum
We bought our 05 Cadillac Escalade from Ali at Affordable Motors. We had such good service that we are now buying another vechicle, an 06 Dodge Magnum. We will send all of our family here. ALI knows how to take care of you !!!!!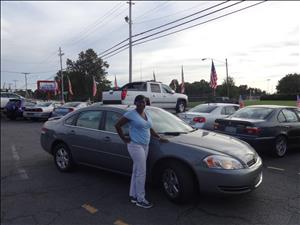 2008 chev
I walked into Affordable Motors and Pete was very eager to help me find the car I wanted and told me my credit would not be a problem for him, I was approved in an hour and returned on a Monday to complete my paperwork. I am a satisfied customer.



Thanks Pete and Affordable Motors


Lajessica T. Austin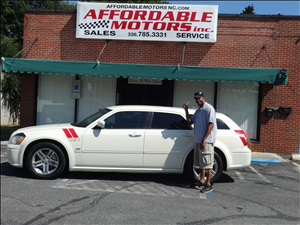 2005 dodge magnum
I love my new car, I got it and have not left it yet! It so amazing to find a true dealership that really cares about the cars they sell. Thank you so much for making my first car buying experience the best!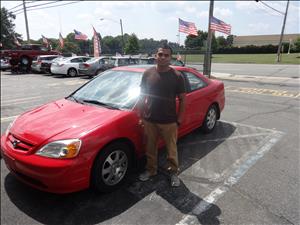 2003 Honda Civic
My experience with Affordable Motors was outstanding!
As soon as I walked in they treated me like family,
found a great car at an affordable price and they work
well with military discounts!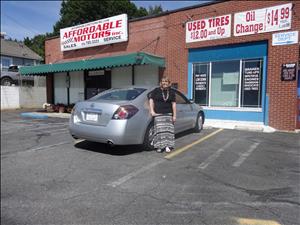 2009 Nissan Altima
I have had great experience with Affordable Motors. I purchased a great vehicle 3 years ago, and just purchased my 2nd car from them. Everyone is friendly and helpful. They go out of their way to take care of their customers before and after purchase.

-Keisha Smith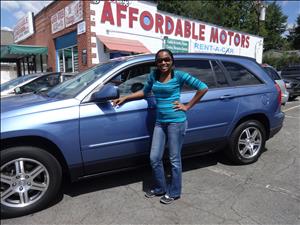 2007 Chrysler Pacifica
Affordable motors is very nice, They work with clients very well. Im very pleased with their service, my neighbor and i drove all the way from Roanoke, VA to buy this car.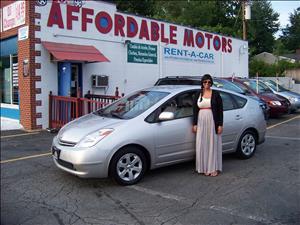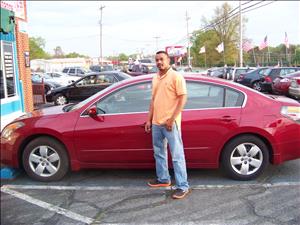 2008 NISSAN ALTIMA
GOOD DEAL I MET MR. ALI HE IS FRIENDLY AND HE HELP ME A LOT, NICE CAR CHEAPEST PRICE IN MARKET. THANK YOU SO MUCH, I RECOMMEND AFFORDABLE MOTORS FOR EVERY ONE!!!!!!!!!!!!!!!!!!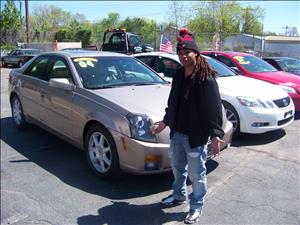 2004 cadillac
Good experience, Quick, Very Helpful.
Got the job done in one day!!

Reasonable prices and no hazards. I highly recommend people to come to Affordable Motors.

Great Job!!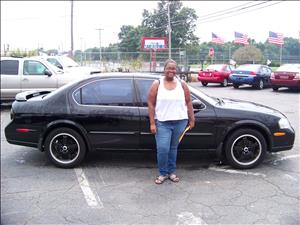 2000 Nissan Maxima
"I enjoyed doing business with Ali and Paco. They were very professional and friendly. They had no problem accommodating my needs for the vehicle I purchased. I definitely would refer my friends and family to them"

- Dawnshaya Jackson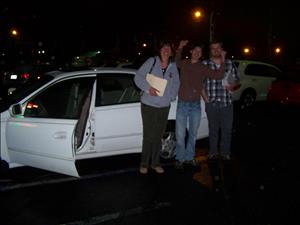 2000 Honda Accord
"The attentiveness I received here at Affordable Motors was great! Some minor things wrong with the car were fixed to my satisfaction and the car was priced right! Thanks!

-Karen Meacham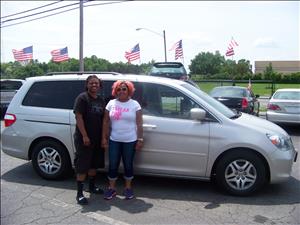 2006 Honda Odyssey
"I bought a 06' Honda Odyssey. The staff did a great job. Paco was honest about everything. I've never meet a car salesman as honest as him. He told me what was wrong with the car. Fixed it and had a ready when I return . For now on I will be buying all of my cars at Affordable Motors"

- Leslie Evans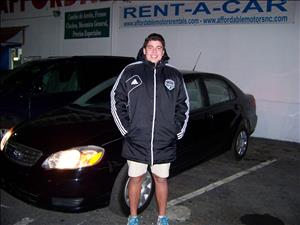 2004 Toyota Corolla
"Affordable Motors was very accommodating. We had lots of cars to choose from at competitive prices. When we found the right one, Affordable Motors, made the process go smoothly addressed all of our concerns"

-Norma A Matto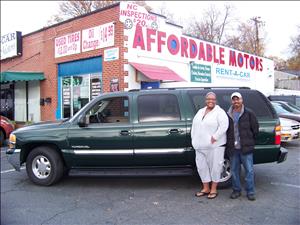 2003 GMC Yukon
"As a first time car-buyer, my experience with the staff at Affordable Motors, has exceeded my expectations in purchasing my car. They were very through in explaining (in detail) every step of the process to me. They are polite, very professional, and do a great job. I am a extremely pleased customer"

-Lisa Grazionale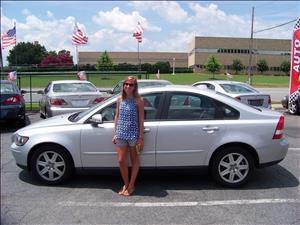 2007 Volvo S40
"My experience was a great one. Very helpful by working with us on our

?
own time and returning all phone calls"
-Haley Morris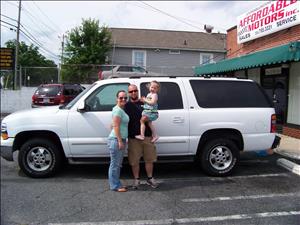 2003 Chevrolet Suburban
"Excellent customer service and great attitude! Easiest car buying experience I've ever had"

-Kristen Greene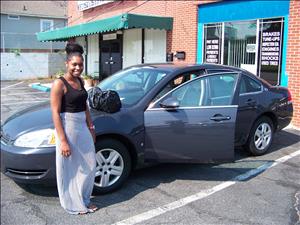 2008 Chevrolet Impala LS
"I really appreciate you all for the wonderful help, and affordable car I purchased. I look forward to coming back again"

-Shakema Drysdale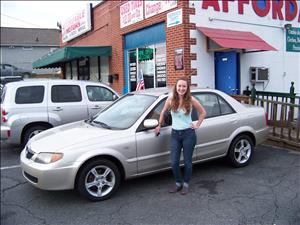 2003 Mazda Protege
"The experience was pleasant. Everyone was helpful and answered all questions. Nice people. A reliable car was bought today"

- Katherine Palm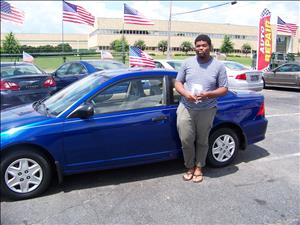 2005 Honda Civic
"I had a great experience at Affordable Motors. Great customer service! Explained everything need to know about the car I purchased. I will come again"

-Joshua Kimbrough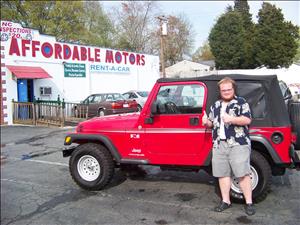 2004 Jeep Wrangler
"Very reliable. Everybody knew what they were talking about and were very friendly. You can't find better deals, they treat you like a neighbor"

- John Nelson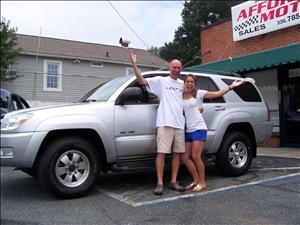 2003 Toyota 4Runner
"So friendly! Honest people! Reliable - overall a wonderful experience!"

- Stephen Dahl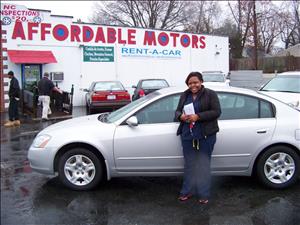 2004 Nissan Altima
"Great service and hassle free, great prices and will work with you on great deals"

- Keaira Smith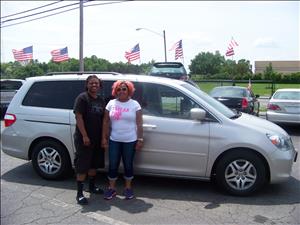 2006 Honda Odyssey
I bought an 06' Honda Odyssey. The staff did a great job. Paco was honest about everything. I've never met a car salesman as honest as him. He told me what was wrong with the car, fixed it and had it ready when i returned. From now on I will be buying all of my cars at Affordable Motors.

-Leslie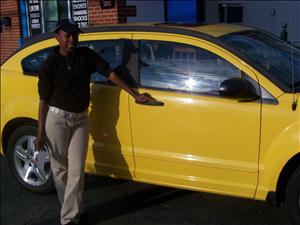 2007 Dodge Cliber
Affordable Motors staff are very helpful. I had a great experience. They were very reasonable on the price of my car. They helped me do everything that I needed to get completed to get approved. I would recommend Affordable Motors to anyone!
-Jeraka Anderson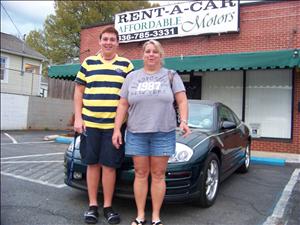 2000 Mitsubishi Eclipse
Affordable Motors was a great used car dealership. Their prices were reasonable and every staff member was very respectful and nice and I had a lot of fun working with them. They got me in my Mitsubishi Eclipse, and this was the BEST experience ever!
-Scott Looney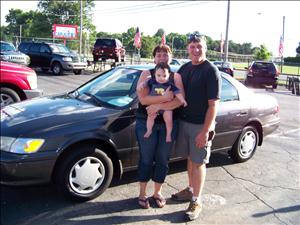 2000 Toyota Camry
Extremely friendly and took the time to answer all our questions and concerns. It is not easy to find friendly and honest sales and we are pleased to have found this dealer. Thank you!
-Leroy & Jenn Frost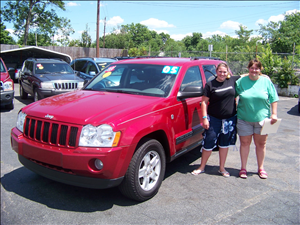 2005 JEEP GR CHER
This was a graduation gift. We had a very nice experience. Hassle free, fast service, nice to work with, and friendly. I will definitely recommend to family and friends.
-Christine Gordon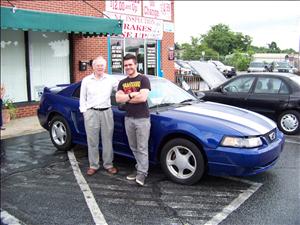 2004 Ford Mustang
You guys had a a great service and were very friendly! This was my first time buying a car. You took care of us well. I would recommend!
-Chandler Hulin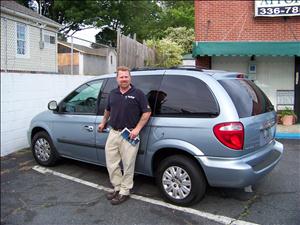 2006 Chrysler T&C
Wonderful experience.
Knowledgeable and answered all questions went above and beyond with level of service highly recommended!
-Aidan Stuart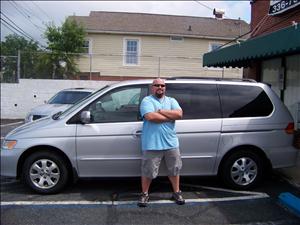 2004 Honda Odyssey
I had a great experience with Affordable Motors the sales people were awesome. They didn't put any pressure on me and did not use any of the usual sales tactics that everyone hates. I got the car I wanted at the price I wanted. I will recommend to everyone to come see them if the are in need of a vehicle.
- Nicholas Sifers
2004 Nissan Quest
Affordable Motors staff was very good, very courtesy, went out of his way to open up on Sunday to let us look at the vehicle, and test drive it. We were very impressed with Affordable Motors.
- Tracy Hairston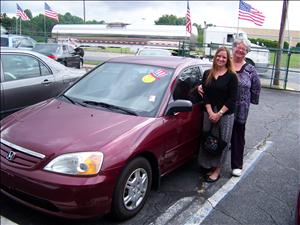 2002 Honda Civic
I had a most pleasant and enjoyable experience at Affordable Motors. It was a blessing to do business at a place where you feel relaxed. Thank you!
-Adriana Brown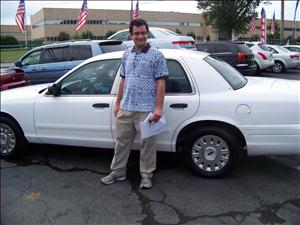 2004 Ford Crown Victoria
I found my experience to be pleasant and got a good car at a great deal. All the staff were pleasant knowledgeable and very friendly. I would recommend them to anyone looking for a vehicle
- David Lerner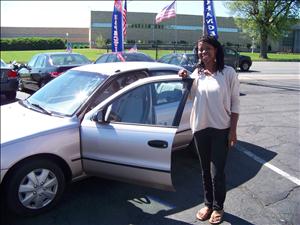 1997 GEO PRIZM
The gentlemen at Affordable Motors are very respectable & honest salesmen! Ali even offered me a $200 discount off my car note If I were to pay my car off ahead of time! However when I lost my job Ali let me work with him on my car payments until I found another job! If I ever have a problem with my car I will always come to affordable motors because I know they will be completely honest with me, quote me the right price, and probably even give me a discount! -Jahmila Al-Amin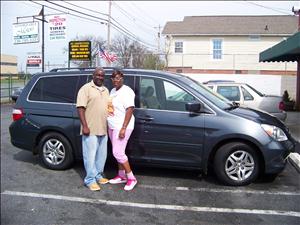 05 Honda Oddyssey
If you are looking for a used car at an affordable price, see the guys at affordable motors they will do you right !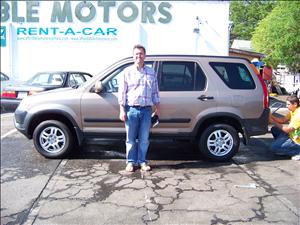 2004 Honda CRV
Thank you for a fair deal and a pleasant buying experience.

James Veilleux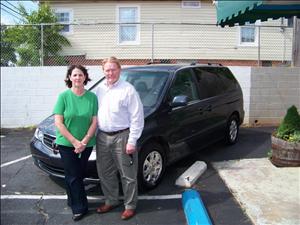 2004 Honda Odyssey
Very Pleasant experience, Low pressure

Kent and Sheila Willard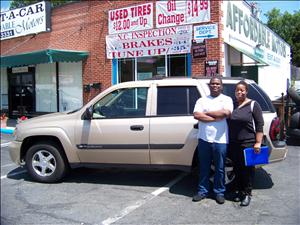 2004 Chevy Trailblazer
Affordable Motors worked Very Hard to get us a great deal on our vehicle. They are very Thorough and made car buying an excellent experience for us.

Tanya Crawford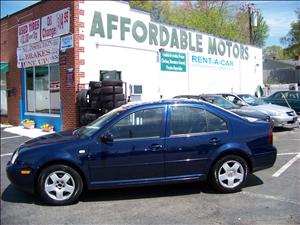 2002 VW Jetta
The staff at Affordable Motors were very Courteous during the entire process. They were very informative and thorough in their coverage of basic questions and concerns one would have in purchasing a new vehicle. I would recommend them to friends. The vehicles were very reasonably priced as well.

Vanessa Stewart
1996 Honda Civic
I showed up and car was in great shape. Paint and engine a lot better than expected for age, worked with me and finance was easy. No push to buy. looking forward to saving gas and enjoying car, thanks great experience

Tom Cameron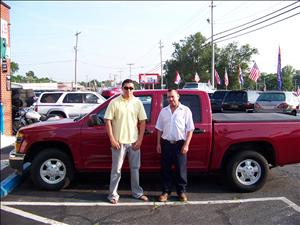 2004 chevrolet colorado
Tube una experiencia en el Dealer (Affordable Motors) en la compra de una camioneta Colorado espero y me salga bien para Tener todavia una mucha mejor experiencia, creo que si porque se ve muy buena.

Daniel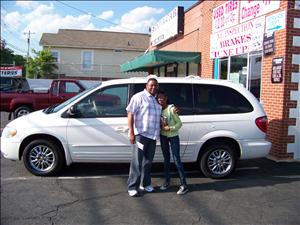 2002 chrysler t&c white
Ali is an incredible Guy, Without his help we would not have found the van my family needed, he is a compassionate professional. To anyone thinking of or looking to buy a car, I say come to affordable motors Talk to Ali and you will be very pleased. I will refer anyone I know looking for a car to come talk to Ali before they shop anywhere else. My name is David and I am Very Happy I chose Affordable Motors.

Davidson G. Sipho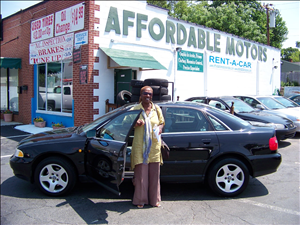 1998 Audi A4
My Experience with Affordable Motors was good, I am Very Satisfied with the service.

Olivia Gaddy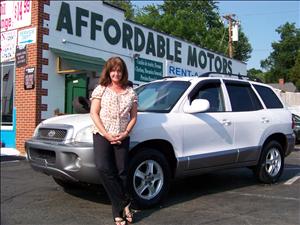 2003 Hyundai Santa Fe
I found Affordable Motors to be Very Informative and Helpful during my car buying process. They have reasonable prices on the car I was looking for. Actually I drove here from Raleigh to Purchase!

Lynn Foster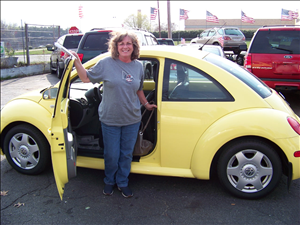 1999 Yellow Beetle
On Feb. 10th, 2011 I purchased a 1999 VW Beetle, was very pleased with the service and the Friendliness of everyone. I feel that I was treated Very Fair and would send anyone to this Dealership.

Stacy Meadows
2001 Honda Odyssey
My Experience at Affordable Motors of Winston Salem was Wonderful. Me and My wife found the perfect van at a great price. The employees were very friendly and knowledgeable. Affordable Motors is the Go To place for a great Used car.

Virgil and Danielle Brewington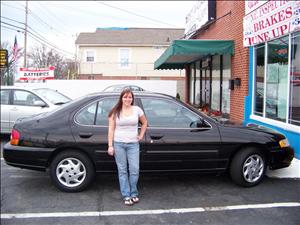 1998 Nissan Altima
I enjoyed doing business with Affordable Motors They really know what they are doing. I will highly recommend them to my friends and family. This is my first car, and i must say that I am very happy with the whole buying experience, I know I made a great choice when I picked Affordable motors. If you are looking for a car, This is the place to come to.

Ana Lagos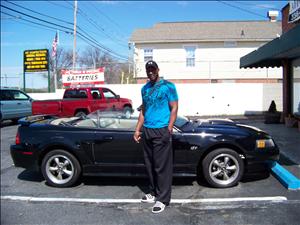 02 Ford Mustang GT
Had a Great experience on my purchase, The service and people were Honest and Up front and that's hard to find in a car Dealership,

Mark Clark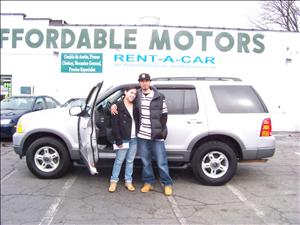 2002 Ford Explorer
At affordable motors I received excellent customer service. Dealer was very negotiable and knew the vehicle well. Will definitely do business again as well as recommend to friends and family. If your searching for an affordable vehicle Affordable Motors should be your first stop.

Tanya Simon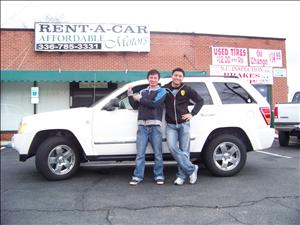 jeep
My friend recomended me to Affordable Motor and I am happy he did. I am pleased with customer service I received and my purchase. The people here were nice and helpful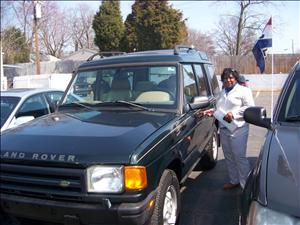 Land Rover
My experience with Affordable Motors went well. They were quick, easy and very patient. I am happy with my Land Rover and will returning for any further purchases.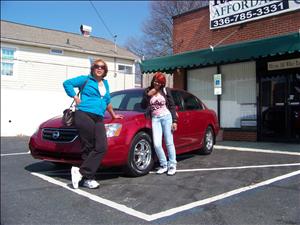 Nissan
I was recomended here by a friend. These people were a lot of help. My daughter and I had been searching for a car for her for months and Affordable Motors find the exact vehicle she was looking for.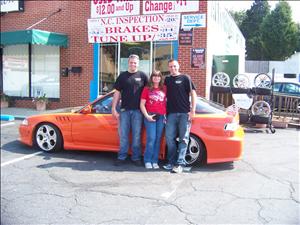 Acura Integra
The people were fast and helpful. I was treated well here at Affordable Motors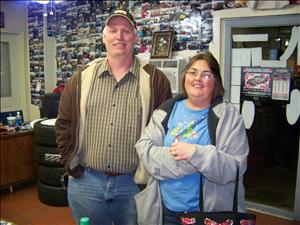 00 Chrysler T&C
Our expirience at Affordable Motors was extremely pleasent. Both gentlemen were extremely helpful, they actually made it a joy to purchase my van. They waited about an hour for me to run to the bank. They were so friendly we kept them here 2 hours after closing. They were not in the least bit pushy. Thank you so much guys!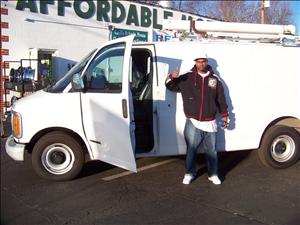 Chevy Van
Affordable Motors did a great job finding what I needed. I came in looking for a reliable work van and that is exactly what I was sold. I enjoyed my visit at this dealer and would recommend it to anyone.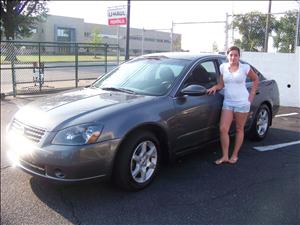 06 Altima
I got almost a new car with very low miles in great shape for a great price and along with it great customer service Ali made the process easy and efficient and i ended up getting a car that fitted my needs at a great price with a great service thanks Affordable motors ! ! And Ali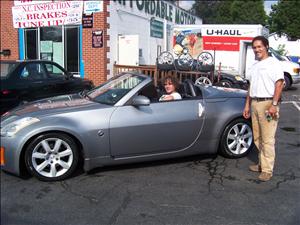 350Z
I got my son his dream car at a very affordable price at Affordable Motors with no hazzles and no pressure into buying it. im glad i was able to purchase a car here and would recommend anyone to shop here because the guys did a great job and made the process really easy for me and my son Great place to buy very customer oriented!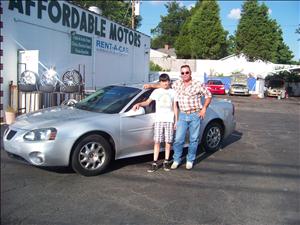 pointiac grand prix
This is the second car we buy within three months Affordable motors is a great dealership and they treat the customer right. I drove all the way from Charlotte and wouldn't mind doing it again if i had to because they have such great deals and make the process fast and easy.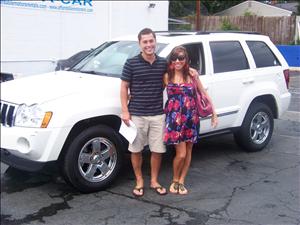 05 jeep cherokee
I recommend Affordable Motors to help u find your next car. I came from Stoneville and these guys were professional knowledgeable and customer oriented. they helped me locate a car that suited my needs. I would recommend this dealership to family and friends.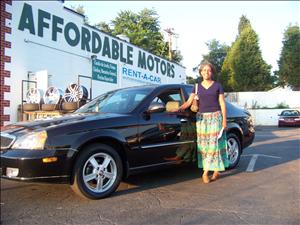 06 suzuki verona
I came from Charlotte NC for a great price on a good used car. there were no high pressure sales tactics and Abid helped me show my 16 year old daughter signs to look for when buying a car!! that was nice and added comfort after a long drive. Thanks Affordable Motors!!!
Aywanna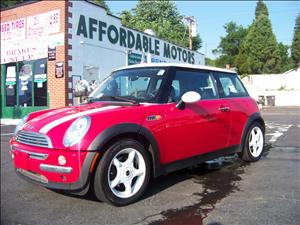 03 mini
Affordable Motors did first rate job preparing the mini for delivery were very easy to work with, they seem very knowledgeable about the car. their after sales service was very good, they did what they said they would do. i am pleased with the deal i got. i would recommend them highly...
1999 Cadillac Deville
i am very pleased. with the service i have received at Affordable Motors. Threir service was tremendously professional. i am very pleased and will recommend their service to any one. " Great Seller"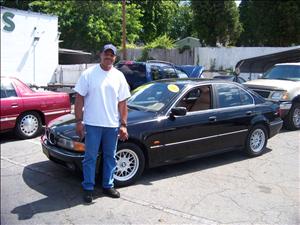 00 BMW
i just got a 2000 BMW 528I I, test dived it checked a car fax history, turns out to be a 3rd owner car low miles just what i was looking for, also a good Busch of Gays to Deal with.Good people to do business with fast service. Straight forward no hassle they give me the best pries as soon as asked them….
Thank Willie m. Crawley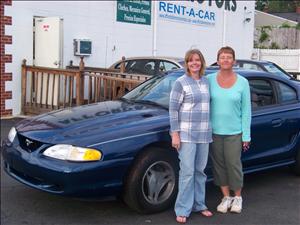 Blue Ford Mustang 1998
I purchased a 1998 For Mustang from Jorge. I came all the way from Virginia and the experience was awesome. The customer service was excellent as they were very forthcoming regarding any questions or concerns that I had. I will definitely recommend them to anyone and will use them in the future!
1998 For Mustang
I purchased a 1998 For Mustang from Jorge. I came all the way from Virginia and the experience was awesome. The customer service was excellent as they were very forthcoming regarding any questions or concerns that I had. I will definitely recommend them to anyone and will use them in the future!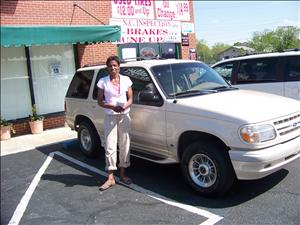 1996 Ford
I was really dreading the whole process of finding a vehicle to replace my old one. I found Affordable Motors on autotrader.com. They had listed a vehicle that really caught my eye. When I went to look at the vehicle, I couldn't have been more pleased. Also, the sales person was very genuine, and helpful. His dedication to selling quality vehicles seemed to matched my dedication to buying a quality vehicle. I am very excited about my new purchase.
Tamika Sodani
05 Toyota
97 Jeep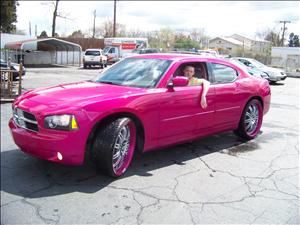 06 Dodge
I love this car I droved a long way to get this car people where best!!!!!!!! Thank you affordable motors...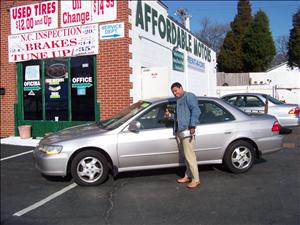 99 hond accord
I found the dealership online and decided to check it out. I found the
car I needed for the price I needed. The sales team was helpful
without being pushy and forthright and honest about all the vehicles
which is rare with used

car dealership

. I'm incredibly satisfied with
my purchase and recommend anyone searching for a used car with out the
usual used

car dealership experience

go to affordable motors because
you'll be plesantly surprised!!!!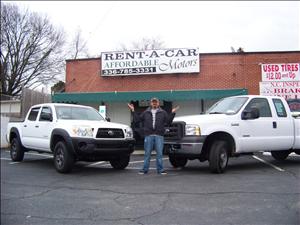 2005 Toyota Tacoma and 2005 Ford F-250
Este dealer es un muy buen sitio para comprar autos o trucas yo compre dos camionetas del 2005 y me salieron a un muy buen precio aqui le ayudaran a conseguir lo que usted quiera el dueno es muy buena persona y trabajo conmigo en menos de dos semanas me consiguio las dos camionetas a um muy buen precio y en buenas condiciones. Este dealer es un muy bueno para comprar autos y se lo recomiendo a cualquier persona.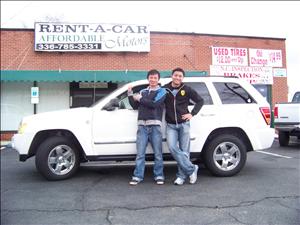 2005 jeep cherokee Limited
I was refferal to Affordable motors through my cousin who knows the owner who is a very helpful and considerate person who will help you get what you need. I basically told him what i wanted and he got it within a week and better i could not have asked for a better car this car had everything i wanted and i love it, thanks to Affordable Motors I now have my dream car and i Would recommend anyone to shop here because its a great place to get a bargain on what you want.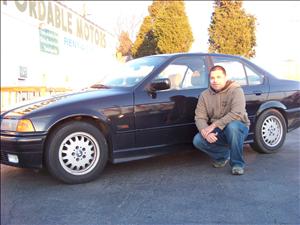 1996 BMW
The best car i've ever had, thanks to my brother telling to come to Affordable Motors and not just that but the great deal I got. My brother got a VW Passat and now I got a BMW 3 series running great thanks to Ali and his staff at Affordable Motors!  Here at Affordable Motors it is easy to make deals with it and not only do you get to buy a car but you also make great friends.

By 
Steve Pichardo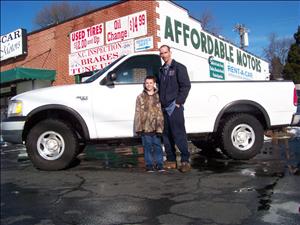 199 ford F 150
My experience at affordable motors was good. They where very helpful with all questions and concerns we had.
By Tonya Woodford.
p.s would do business with them any time and recommend to other people.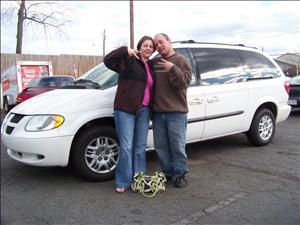 2003 Dodge ven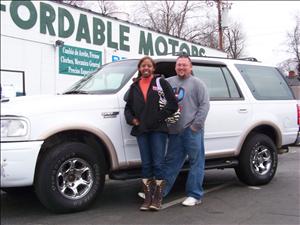 1997 Ford Expedition
Our experience at affordable motors was great. No in between line gassing, straight forward business. Recommend to others greatly.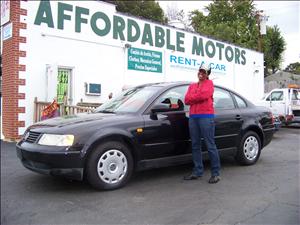 1999 volkswagan passat
Wonderful individuals to do business with !!  Very helpful, and reasonable with financing/payment options.  From Cassandra Martin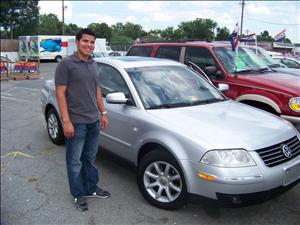 2004 passat
Affordable motors is a great place to purchase a car i purchased my 2004 passat and got a great deal on it, and i was also treated very nice by the staff by getting a car here i did not only get my car but also a friend. Theyre really good when it comes down to customer satiisfaction just talk with Ali and hell take care of you.

Kevin Pichardo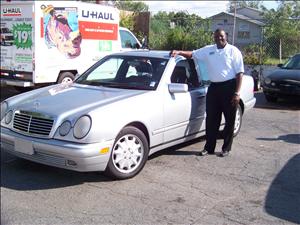 1997 Mercedes
I am so happy to find my Mercedes.  I work at a national dealership in Greensboro, but they could not find the car I wanted in my budget.  Ali found the perfect Mercedes I have been looking for.  You will not find a better dealership anywhere.

   Ali and the guys at Affordable Motors really know what they are doing.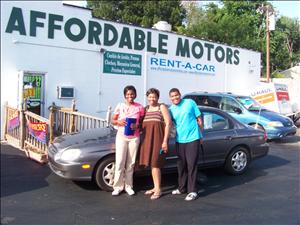 2001 Hyundai
I was amazed at the great financing options they have to offer.  I was able to get my car with only $500 down!!!!!!!   The easy payments and great buying experience can't be beat!!!!

                                                                                                            Erika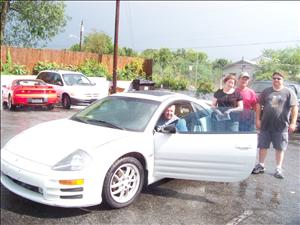 2002 Eclispe
The price was so great on this car; we drove from West Virginia to buy it.  The process was so easy and the guys at Affordable Motors were so helpful.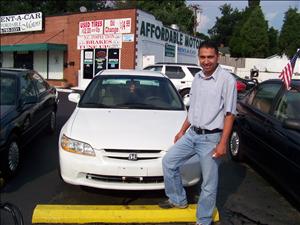 01 honda
I love my new 2001 Honda Accord.  ALi and his staff were so helpful.  His easy financing and payment options let me get the exact car I wanted.  Thank you Affordable Motors!!

Adoro mi nuevo 2001 Acuerdo de Honda. ALi y su personal fueron tan útiles. Sus opciones fáciles del financiamiento y el pago permiten que mí conseguir el coche exacto que deseé. ¡Gracias Afforable Motors!!

                                                                                                                Junior, 
                                                                                                                King, NC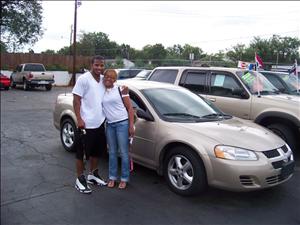 2004 Dodge
 I was worried about buying a car.  I didn't want a lemon and I had a limited budget.  Ali showed me all the great  options they had.  I found I could get a really great car with such a super low price I was able to pay cash.  No car payment for me thanks to the guys at Affordable Motors.  They could not have been more helpful.

                Kelli
 Raleigh, NC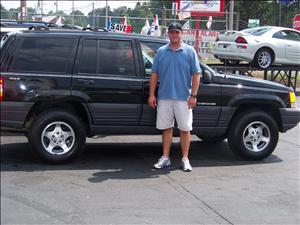 1997 jeep
I was looking for a good quality SUV I could pay cash for.  These guys were easy to work with and my Jeep is great. 

                                                                                                        Gregory Hilton
                                                                                                        Roanoke, VA
2001 Jeep
I am so impressed with this dealership.  I drove from Tennessee to buy my 2001 Jeep Cherokee and the drive was well worth it.  I have never met a car dealer like this.  Honest, fair and upfront about exactly what I was getting.  Thank you so much for the great SUV I now have for my family. I would drive from Tennessee again!!!

  Homer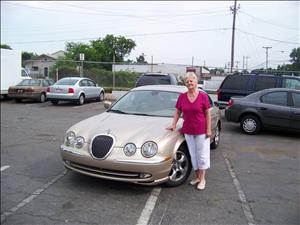 05 jag
My Jaguar is go great my son had to copy me and buy his Jag at Affordable Motors.  Thank you for making the process so easy for both of us!!!!!!
02 jag
I love my Jaguar so much, my mom bought one too!!!!   To find a great looking luxury car at such a great price was the best part.  Thank you so much for a quick and easy buying process.

                                                                                                                            Roger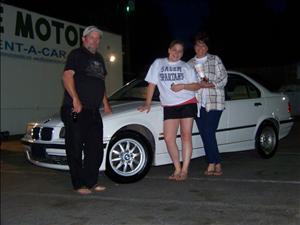 1999 BMW
I am so lucky to have found my great BMW at Affordable Motors.  The guys were great with me and my parents.  The drive from Virginia was totally worth it.   Thanks Mon and Dad!!!
                                                                                                                Morgan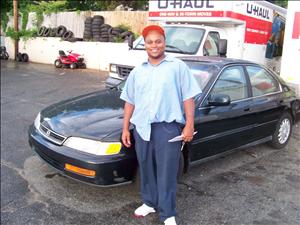 1997 honda accord
I didn't think I could ever get a Honda with my credit.  Affordable Motors found me the car I wanted and they didn't charge any interest on my payments!!!!  This is the place to build your credit without wasting money on high fees those other guys charge!!
            
                                                                                        Chris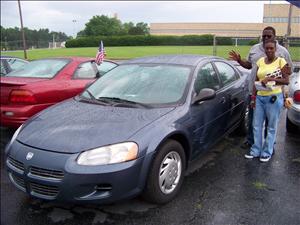 02 dodge
Ali helped me so much.  I was able to buy my car with a low down payment and NO financing fees.  Zero,none!!! The other dealers wanted to charge me over 20%.  Now I have a great car without a super high payment!!!  Thanks Affordable Motors!!!